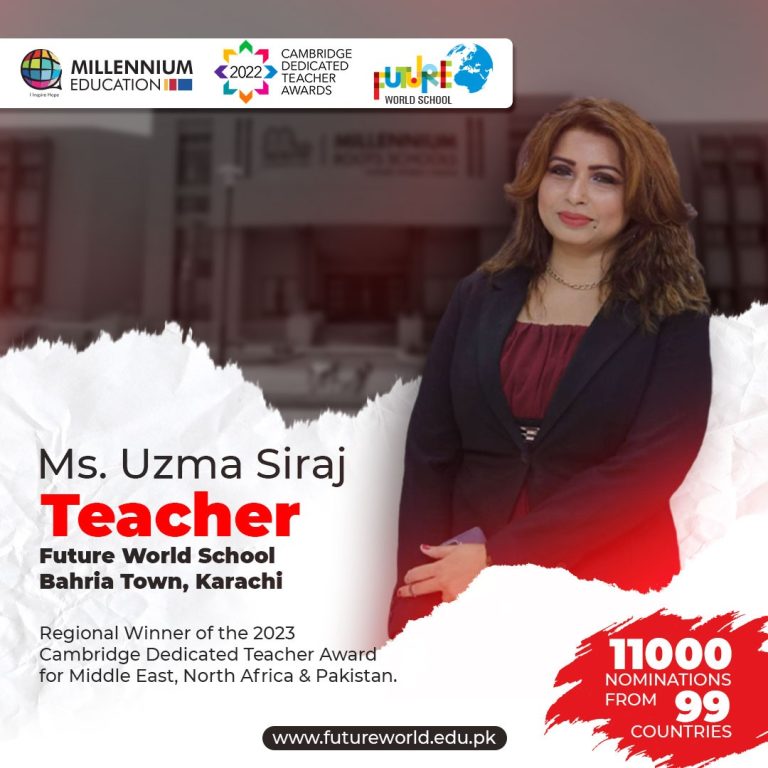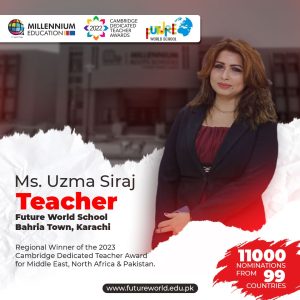 We are thrilled to share the amazing news that Ms. Uzma Siraj, a teacher at Future World School in Bahria Town, Karachi, has won the Regional Winner of the 2023 Cambridge Dedicated Teacher Award for the Middle East, North Africa, and Pakistan. This award recognizes the contributions of outstanding teachers from around the world, and Ms. Siraj's dedication and tireless efforts have truly exemplified excellence in the field of education.
Out of 11,000 nominees from 99 countries, Ms. Siraj has risen to the top with her inspiring dedication and relentless efforts in helping learners reach their full potential.
Ms. Siraj's journey began as a Montessori teacher, and she made her way up to A-levels, setting an example for passionate teachers everywhere. During her days as a Montessori teacher, she went above and beyond for her students. She helped a physically-disabled child in her day-to-day tasks and even helped the child win a musical chair contest. Despite her own financial instability, she took it upon herself to sponsor the education of a janitorial staff's child who dreamed of becoming a doctor. To expand her area of education, she appeared for the CAIE Urdu examinations and was awarded distinction.
This iron woman supported her ailing husband and children while working twice her capabilities, providing pick-and-drop services to students to make ends meet. Not only did she pledge to help her own students, but she also vowed to assist anyone in need, and her efforts in organizing a flood relief charity drive are a testament to her character.
Ms. Siraj's accomplishments and dedication to the field of education are awe-inspiring, and we are proud to have her as part of our educational community.
Please visit the following link to vote for Ms. Siraj: https://dedicatedteacher.cambridge.org/vote/
Let us show our support and appreciation for the amazing work that Ms. Siraj has done and continues to do for the education community.
News Links:
The Nation
Pro Pakistani
Congratulations to Ms. Uzma Siraj on her well-deserved recognition as the Regional Winner of the 2023 Cambridge Dedicated Teacher Award!