Future World School and College  – FWS & C  Pakistan is the Project of Roots Millennium Schools Pakistan and is Pakistan's primary concept based, skills centric, pedagogy driven and technology enabled 21st century iconic school and one of the best A level college in Islamabad Pakistan.
FWS and College has a legacy of turning dreams into reality where millennials studying in this prestigious school and college break world records and score top positions in the world in all National and International examinations -attain perfect SAT scores, receive admission offers in top national and international universities with full scholarships in various disciplines of physics , social sciences , arts , technology and engineering programmes at world top universities including the IVY Leagues, MIT, Oxford, Cambridge NYU, Hongkong University ,Reed College, Welsey College, Drake University ,UCL, Warwick, Manchester , Agha Khan University , LUMS, GIK , IBA , NUST ,UET and many more. FWS and C H11 is located in the heart of Islamabad and known as best A level college in Islamabad with best teaching faculty and staff. Learners excel at FWS and College H 11 because of its unparallel combination of quality and breath, its picturesque location with a vibrant culture and its commitment to diversity , inclusion and community engagement.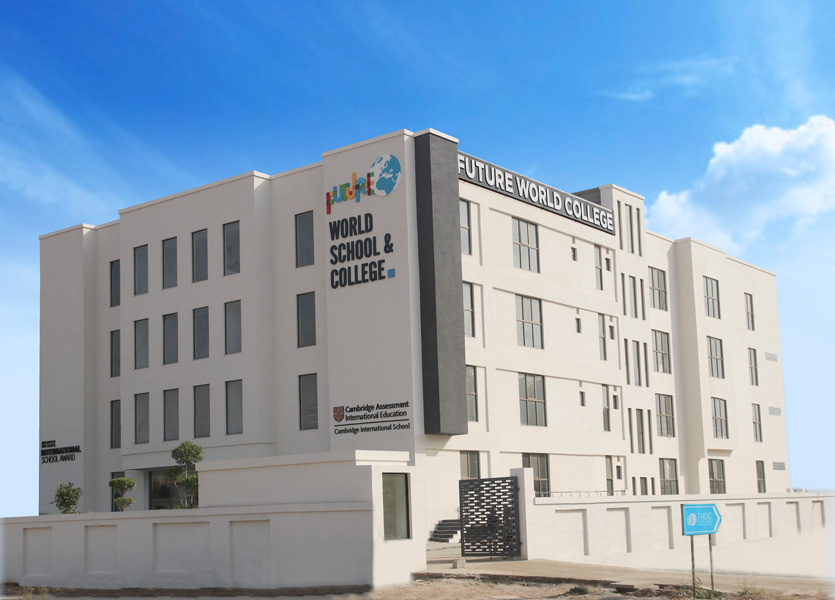 Apply Now For Admission
FWS incorporates the best educational programmes available in the world, including the Future World School's own proven Middle Year programme with a focus on interdisciplinary learning & Cambridge IGCSE, 'O ' Levels and 'A' Level.
The Flagship Future World School at H11 is a state of the art purpose built campus beautifully set on dreamland of 10 acres of land and known as best A level college in Islamabad having numerous facilities for learners, teachers and community. The Campus comprising blocks of building that house classrooms, laboratories, libraries, resource rooms, staff rooms, offices and all other necessary accommodations needed by the school. FWS infra structural resources also includes multi purpose sports area, auditorium, robotics lab, on campus gym, sustainable green food cafe, early year learning centre, art and design studio, language centre, counseling and coaching centre, nursing and first aid room, campus store and  roof top garden. The Campus boasts latest learning technologies and world class educational infrastructure to achieve the heights of success in academics and extracurricular activities.
Curriculum, Choices & Qualifications on Campus
Future World School Middle Years Programme
Ordinary Levels (O Levels), Cambridge International Examinations, UK
International General Certificate for Secondary Education (IGCSE), Cambridge International Examinations, UK
Advanced (A Level) & Advanced Subsidiary (AS Level), Cambridge International Examinations, UK
Millennium Intel SFS Information Communication Technology Programme
Millennium WWF Green School Programme
Millennium Citizenship & Community Education Programme
Millennium Confucius Classroom Programme
PASCH – Millennium German Language Programme
Microsoft Expert Education & Mentor School Programme
Cambridge Professional Development Qualifications PDQ's
Some of the Key Learning Resources, Infrastructure & Facilities on Campus are as follows:
Study Skills Exploration Room
Music and Movement Room
Art, Crafts & Activity Studio Room
Nap & Rest Room
In house Activity Gym
Purpose Built Campus Auditorium
Dramatics & Performing Arts Room
Budding Scientist Room
Health & Nutrition Room
Organic & Healthy Meal Cafeteria
Well Stocked Library & Learning Resource Center
Listening Post & Language Development Room
Indoor Gaming Room
ICT & E-Learning Room
Nursing & Medical Room
Hygienic Washrooms for children as per age
Reading & Story Telling Room
1 Purpose Built Basketball Courts
Gymnastics Facilities
Changing Room with Individual cubbies for storing children's belongings
Purpose Built Table Tennis, Badminton, Volley Ball Facilities at Future World Campus
Robotics Lab
Campus Gymnasium
Knowledge Park
Physics, Chemistry & Biology Labs
The Forum Auditorium
Interactive Digital Boards in each class
On Campus Free Wifi
Student Lockers & Key Cards
Biometric Attendance System
On Campus Books Store
Showcasing & Collaboration Room
Campus Security & Control Room
Virtual Live IP Based Classrooms
Sustainable Classroom through Solar Panels Energy
Educational, Languages & Diversity on Campus
Millennium Chinese Language Programme
Millennium Confucius Classroom Initiative
Millennium Robotics & Artificial Intelligence Programme
Millennium WWF Green School Programme
Millennium Intel SFS Information Communication Technology Programme
Millennium German Language Programme
Millennium Citizenship & Community Education Programme
Member PASCH – The "Schools: Partners for the Future" initiative
Member Microsoft Partners in Learning Programme
Member Intel Teach and Intel Education Initiative Programme
Member British Council Global School Partnerships and Connecting Classrooms Programme
Member Global Entrepreneurship Week GEW by Kauffman Foundation
Member Lions Club – QUEST: Skills for Adolescent Programme
Member Traffic Police Road & Traffic Safety Programme
Member Pakistan Red Cresent Society PRCS Junior & Youth Clubs
Member All World Network, USA
Beyond the Border Education, Travel & School Links Programme
Beyond the Classroom Teaching & Learning Initiatives Programme
Clubs, Societies & Student Engagement on Campus
Sports & Games Club
Environment Club
Arts & Crafts Society
Dramatics & Performing Arts Society
Chinese, German & French Languages Club
Urdu Language Society
Music & Entertainment Club
Digital Literacy Club
Robotics Club
Karate, Taekwondo & Chinese Tai Ji Club
Community & Civic Education Society
Literature & History Society
Global Citizenship Club
Athletics & Gymnastics Club
Creative Writing Society
Spelling Bee & Reading Society
Entrepreneurship Club
The Millennial Society
The UN Global Compact Society
English Speaking Union Society
The Indus Entrepreneurs – TIE
Youth Entrepreneurial Society – YES