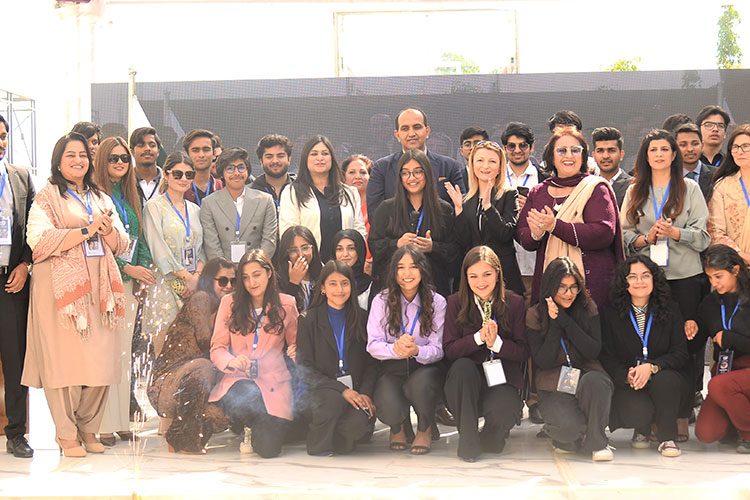 Learners of Future World School and College H-11/4, Islamabad organized the three days, "FWMUN 2023" under the theme of , "The Promotion and Protection of Human Rights in Digital Age" from 24th to 26th February, 2023.
The mega event was officially inaugurated by Ambassador Irena Gancheva of the Republic of Bulgaria in Pakistan. The event saw the attendance of several dignitaries, including Founder & CEO The Millennium Education Group Dr. Faisal Mushtaq TI, and Director Communications, Community & Outreach Sabina Zakir.
The opening ceremony was a grand affair, with a stunning flag parade that left everyone in awe. National anthems of both Pakistan and Bulgaria echoed through the halls, reminding everyone of the importance of national identity and unity. The artistic performances that followed were nothing short of breathtaking as learners showcased their talents and celebrated the beauty of diversity.
Dr. Faisal Mushtaq TI, Founder & CEO The Millennium Education Group, Pakistan, delivered a motivational speech that left everyone inspired and uplifted. He spoke about the power of education to transform lives and make a positive impact on society. His words resonated deeply with the audience and set the tone for the rest of the conference.
Ambassador of Bulgaria Irena Gancheva graced the occasion with her presence and shared her own experiences as a student participating in MUN conferences. She highlighted the importance of investing in education and the role it plays in shaping the future of a country. Her words were a reminder that the youth hold the key to a brighter future.
The FWMUN 2023 conference provides a platform for students to engage in constructive debate, find solutions to problems, and exchange ideas. The event celebrates cultural diversity and encourages intellectual minds. This exclusive conference is a timely reminder of the power of unity in overcoming calamities, pandemics, and disasters. The FWMUN 2023 inspires youth to shape a world based on justice, solidarity, liberty, and peace for all, and provides an opportunity for students to be actively engaged in the learning process as young diplomats.
It served as a reminder for youth that the future is in their hands, and they have the power to shape it for the better.
News Links: